The Hermitage near Nashville, TN - Andrew Jackson's plantation, 1/6/2010
posted 1/18/2010
A friend told me that until the 1970's, tours in Virginia of Mt. Vernon, Washington's home, and Monticello, Jefferson's home, did not include the former slave cabins, nor mention the slaves who supported their owners. After that issue was raised by __ and others, this omission was apparently corrected.
When I recently visited the Hermitage, I was curious about whether and how it presented the contributions of the slaves that supported former president Jackson and his family.
---
The Hermitage.
The front was intended to be hidden initially by a curved driveway & trees, but it is also undergoing renovation. (#2452, 1/6/2010)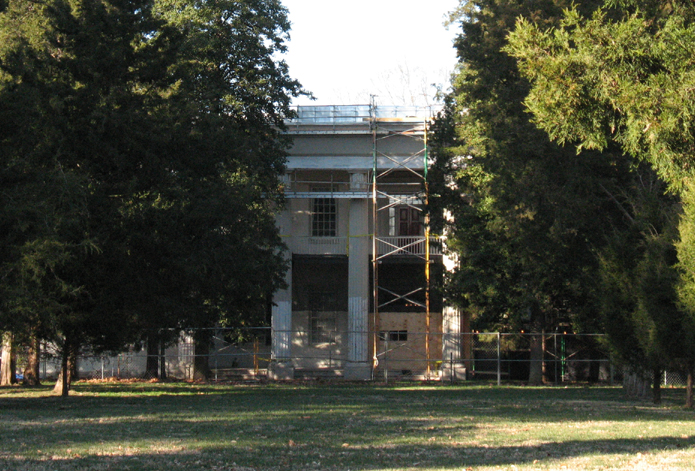 The pillars at the rear provide an approximation of what the front pillars & facade looks like. (#2431, 1/6/2010)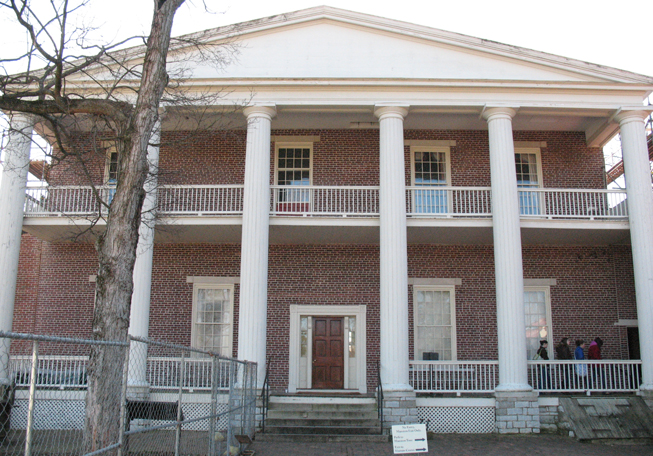 The hosts do not allow pictures to be taken of the interior of the Hermitage because tourists did not disable the flash on their cameras, and the the cumulative exposure to bright lights fades paint, wall paper, and furniture finishes. The wallpaper in the first floor hallway was linen based and gave the effect of a mural, see the photo of the front staircase on the The National Park Service page (the Hermitage web site does not seem to have pictures of the interior). Since I prefer taking pictures without flash, I took a few interior pictures.

The pictures were taken through protective glass. The chandeliers are original and used to hold candles.
The front formal parlor for guests. (#2429, 1/6/2010)
The rear parlor for family (#2430, 1/6/2010)
---
As detailed by the displays sampled below, the above Hermitage lifestyle "was based on the unpaid labor of over 150" slaves.
Information about the lives of the Jackson's slaves is presented on wall hangings in the visitor's center, and in exterior display boards along the walking paths. The context: (#2449, 1/6/2010)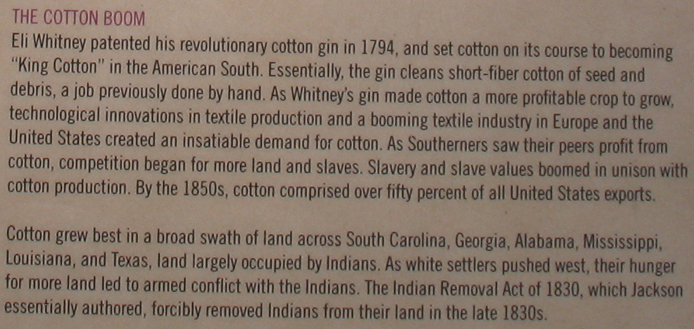 (#2449, 1/6/2010)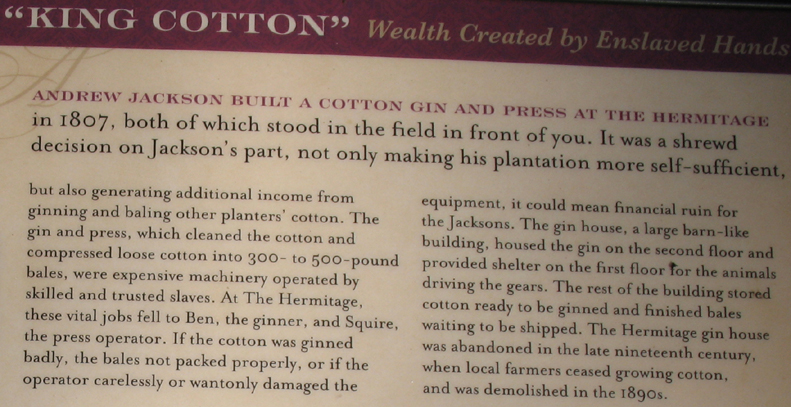 | | |
| --- | --- |
| Cotton and the slaves of The Hermitage (wall hanging) | (#2422, 1/6/2010) |
| | |
Andrew Jackson and his family lived a two story wood cabin for their first 17 years at the Hermitage. Though they built and moved to a large brick home later, the image of Jackson having lived in a log cabin became part of his public appeal. The original cabin was converted to slave housing. (#2440, 1/6/2010)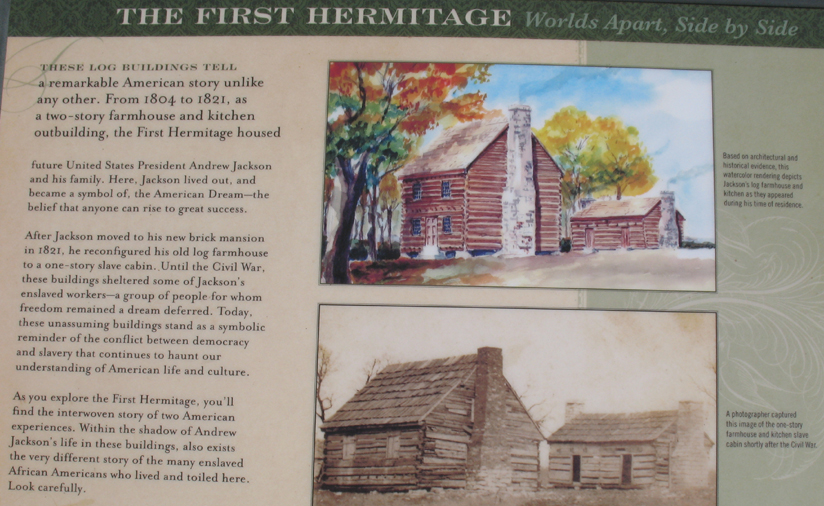 (#2443, 1/6/2010)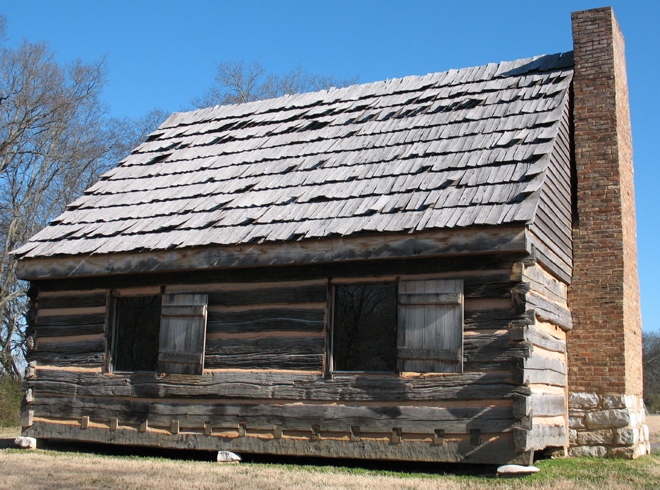 From the display board: "A Landscape of Inequality, Enslaved Life at the Hermitage" (#2432, 1/6/2010)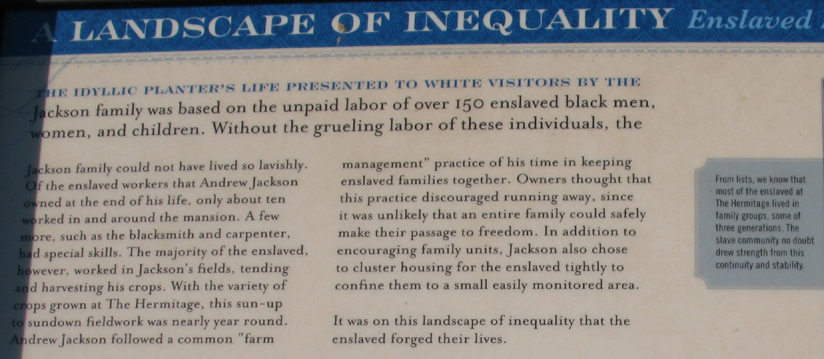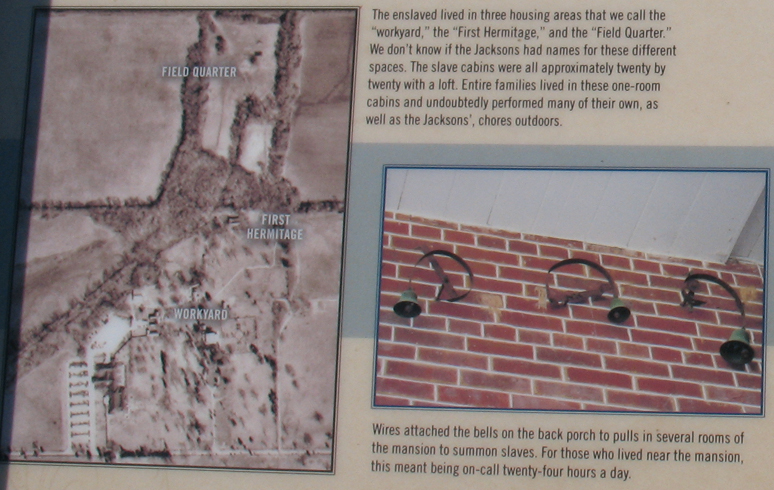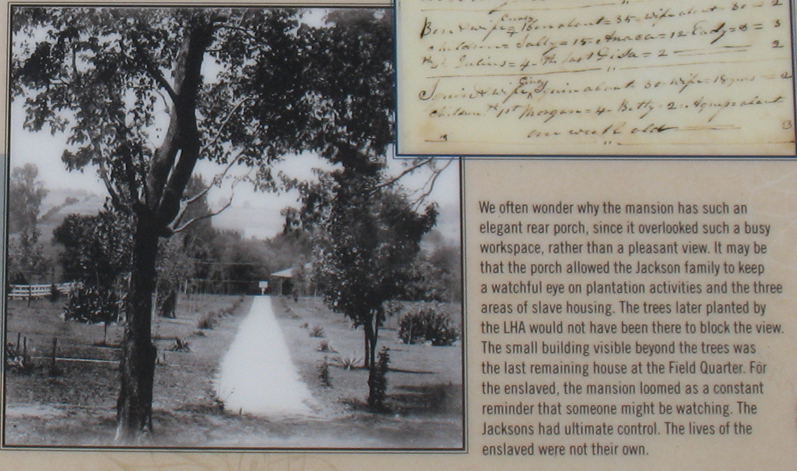 | | |
| --- | --- |
| From the display board: "Property, Family, Humanity" (#2439, 1/6/2010) | (same) |
| | |
From the display board: "Determined Resistance, Fighting for Freedom"
(#2448, 1/6/2010)
(same)